Nine hardy souls turned up on Thursday 26th for our latest Predictor Run. It was a freezing cold night with temperatures below zero. Some club members didn't venture out that night, but one was spotted heading home with a very tasty blue cheese and a bottle of wine to share with his wife, and fellow runner, in front of an open fire. Can you guess who that may have been??
Robbie Kelly was first to finish in 28.47, and was also closest to his predicted time, being 43 secs below his prediction. Robbie was obviously not running flat out as he did a loop around town, including Lombard's Wynd, to warm down. Julia Snape ran much better than she expected, and finished 2mins 18 secs below her prediction.
For those whose competitive streak kicks in on these events, Rebecca Simpson's time of 27.19 is still the time to beat.
Our next run will take place on Thurs Feb. 23rd; just come along to the clubhouse at 6.30 to register.
Marian
Four Swaledale runners took part in this years Commondale Clart fell race (5.2 miles, 700 feet climbing) on January 8th. Tim Grimwood had another fine run to finish 12th out of 136 runners in 39.28. Ian Oldham was next club finisher in 45.35, followed by Caroline Graham in 47.28 and Becky Barnett in 48.22. Mark Sowerby was the only club representative in the Brass Monkey half marathon in York on January 15th, finishing just outside the 1h 30 barrier in 1.30.53.
Most of the racing action in recent weeks has taken place in the local Parkruns. It was great to see Steve Brown emerge from hibernation to finish 3rd in Darlington on Saturday 7th with a time of 18.51. Martin Randall finished in 20.09 with Zoe Mason in 21.38. On the same day, Andrew Fletcher was 7th at Fountains Abbey in 19.40 with Nicky Logan recording 33.30. At the Northallerton event Andy Gaines was 7th in 22.26 with Niall Cheyne in 26.26.
Last weekend five members ran in the Darlington Parkrun. Times - Martin Randall 19.49, Andy Gaines 21.12, Zoe Mason 22.34, Stuart Hardcastle 22.46, Niall Cheyne 25.48
The Tour de Helvellyn is a gruelling off road event taking in Lakeland passes in a 38 mile loop around Helvellyn. Three club members took part in this years event on December 17th with Ian Oldham finishing 98th of around 200 runners in 8h 43m, Caroline Graham 124th in 9h 13m and Michael Rosher 188th in 11h 9m. The following day Robbie Kelly was first club finisher at the 8 mile multi terrain Loftus Poultry Run in a time of 56.53. Oonagh Bathgate was 2nd FV55 in 57.38 with Claire Stewart in 68.38 and Julia Spittle in 78.74.
The club's women have become used to winning team prizes in recent months and scored their most impressive victory to date on December 27th, to finish first of 14 teams at the Guisborough Woods Fell race. Rebecca Simpson was 8th woman in 49.28, with Caitlin Pearson 12th in 51.45 and Becky Barnett 15th in 54.19. Michael Keavney also ran, finishing in 51.38. Also on the 27th, Derek Parrington finished 34th out of over 602 runners at the Jolly Holly 10k in Ripon, Carol Murray recorded 53.09, with Roger Brisley in 65.10 and Richie Smith in 66.35.
There were 4 club members in each of the two local New Years Day fell races. Tim Grimwood continued his good form to finish 26th in the 8 mile Nine Standards race at Kirkby Stephen, with Robbie Kelly next club finisher in 70.44, followed by Jim Coldwell in 77.55 and Claire Stewart in 86.36. At Captain Cook's monument Ian Oldham finished just ahead of Martin Randall, with times of 40.40 and 41.07 respectively. Stephen Libby recorded 43.45 and Caroline Graham 45.55
As you can see from the photo, we had a very festive December Predictor Run. Well done to everyone for getting into the Christmas spirit. People out walking their dogs would have been very surprised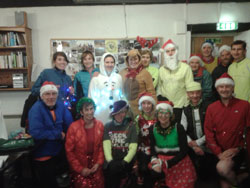 to see a flashing snowman, Rudolf, a robin, an abundance of Santa's little helpers, and of course Santa himself, racing along the streets of Richmond!. Stuart and I just about managed to stay focused on the task of recording times. Rebecca Simpson was first to finish, closely followed by Martin Randal and Mark Sowerby. James Taylor was obviously in better form than expected, (Santa's beard obviously didn't slow him down!), and finished 4mins 55secs faster than his prediction. We had joint winners in Helen Inglis and Jan Isley. Having run round together, at a leisurely pace, they incredibly finished in exactly their predicted time of 40.00.
Our next run will take place on January 26th. Look forward to seeing another good turnout; meet at clubhouse at 6.30pm to sign up.
Marian
Anne Singleton was the sole club representative at this year's Langdale Christmas Pudding 10k in the Lakes on December 3rd and finished just outside the hour mark in 61.28. The following day saw seven members at the Eskdale Eureka fell race (8 miles, 1400 feet climbing) at Castleton. Tim Grimwood finished 19th in a strong field of 130 runners in 64.32, follwed by Ian Oldham in 75.02. Michael Keavney finished in 77.14, just ahead of a closely bunched women's team of Rebecca Simpson in 77.43, Becky Barnett in 78.54 and Caroline Graham in 80.29. The trio were unlucky not to win the women's team prize. Also on the Sunday, two members travelled to Blyth for a bracing run along the beach in the 5 mile Blyth Sands Handicap race. The race format gives a head start according to age and sex category and Steve Brown finished 6th out of 121 runners with an actual time of 33.15, with Martin Randall 30th in 35.13.
Rebecca Simpson underlined her good form at last Saturday's Darlington Parkrun to finish as first woman in a new PB of 20.05. Zoe Mason was fourth woman in 21.14 and Stuart Hardcastle finished in 22.02. At the Fountains Abbey event Andrew Fletcher was first V55 as usual, in 19.37. Over in Northallerton Vicki Howe recorded 26.04 and Julia Spittle 28.57.
Away from racing, the annual Presentation Night took place at Richmond Rugby Club on December 2nd. The event was well attended and successful, confirming that the club is in good shape at the moment. Awards for best male and female went to Steve Brown and Oonagh Bathgate respectively. Andrew Fletcher and Julia Spittle picked up the prizes for the Road championship. Tim Grimwood was crowned Fell Champion for some excellent performances in his first serious year on the hills. However, he still has a lot to learn in the discipline when it comes to navigation, and also picked up the wooden spoon for getting lost between the car park and the start line at a Lake District race in September.
Predictor Run
There was another good turn out for the Predictor Run on Thursday 24th Nov. A relaxed approached was taken by all runners on the night! Many were still recovering from the Wensleydale Wedge the previous weekend. Julia Spittle travelled all the way from Northallerton to join us; that's dedication! Martin Randall was first to finish in a very comfortable time of 33.30. Julia Snape was closest to her predicted time, finishing 14 secs below her prediction. Michelle Bray, a new runner to the club, had a great run. She surprised herself by finishing 12 mins 19 secs below her predicted time.
Our next run takes place on Dec 22nd. I look forward to a great turn out in Santa hats and tinsel! Meet at the clubhouse at 6.30 to sign up.
Marian
The Wensleydale Wedge took place on November 20th with muddy ground on the lower slopes and snow on the tops. The 23 mile route is a Long Distance Walkers Association event but welcomes runners, and many club members took part. Martin Randall finished 6th out of 240 finishers in 4.02 with Ian Oldham also highly placed in 12th with a time of 4.11. Other times - Caroline Graham 4.42, Neil Bowmer 4.42, Vicki Howe 5.07, Michael Rosher 5.23, Ros Blackmore 6.13, Sarah Haynes 6.31, Stu Clarkson 6.31. The following Saturday three members ran in the hilly Ravenstonedale 10k near Kirkby Stephen on a beautiful cold crisp day. Martin Randall was first club finisher again in 42.54 with Jim Coldwell in 45.48 and James Taylor in 48.21. Jim had also been in action two weeks earlier at the Dunnerdale fell race (5 miles, 1800 feet climb). He had an excellent run to finish 88th out of 183 runners in 56.49, beating club rival Michael Keavney (59.14) by a convincing margin.
Park run times . Northallerton - November 19th, Andy Gaines 22.07. November 26th Vicki Howe 26.11. Darlington - November 26th, Zoe Mason 22.47.
The Saltergate Gallows fell race (10.6 miles, 1400 feet climb) on November 6th was the final race in this year's club fell championship, and took place in testing wintery conditions. Tim Grimwood finished in an excellent 16th place in the race in 93.40, confirming him as club champion. Ian Oldham was next club finisher in 99.24 with Robbie Kelly in 103.08. Rebecca Barnett in 106.58 and Caroline Graham in 107.45 finished as 6th and 7th women respectively. Thanks to the "ghost" runner rule used in the Esk Valley series, Swaledale's team of two highly placed women beat those clubs with three slower women to the team title. Jim Coldwell finished just behind Caroline in 108.18. On the same day Pete Devlin finished the Leeds Abbey Dash in 52.48.
Zoe Mason, Andy Gaines and Andrew Fletcher continue to perform well in local Parkruns, the most notable performances being a first place for Zoe at Darlington, second place for Andy at Northallerton and fifth overall and first V55 for Andrew at Fountains Abbey.
Parkrun times. Northallerton : November 5th - Andy Gaines 21.18, Niall Cheyne 24.32, Chris Sayer 29.39. November 12th - Andy Gaines 21.50, Niall Cheyne 33.30. Darlington: November 5th - Rebecca Simpson 25.50. November 12th - Zoe Mason 21.35. Fountains Abbey: November 5th - Andrew Fletcher 19.40.
As part of of our Winter training sessions this year, the first Predictor Run took place on Thursday 27th October. There was great turn out of 19 runners who aimed to predict their time over a 3 mile, or 4 mile run around town. Martin Randall was first to finish in a time of 28.16 But the runner closest to their predicted time was Jo Caislay who was only 21 secs out with Ros Blackmore close behind, 24 sec out Robbie Kelly seemed to somewhat misjudge how long it would take to complete the course and finished 7mins 57sec quicker than his predicted time!!! Am sure he will be a bit closer next time.
Next Predictor Run will be on Thurs 24 Nov; meet at clubhouse at 6.30 to sign up.
Marian Hunter