Here is a link to the results of the Virtual Richmond Castle 10K. Congratulations to all who completed this event - it is probably even tougher when you have to complete it as a virtual race. Thank you all very much for your support.
While we have not been able to hold club nights in the usual way over recent months, club members have been out and about taking part in all kinds of challenges
.
Massive congratulations to Ian Oldham who completed the Classic Bob Graham Lakeland Fell challenge on 24/25 July traversing 42 fells, 66 miles, 26900 feet of ascent in in a time of 23.13. Great achievement, well done to him and all his team.
Well done also to Jess Young (20.26.52), Ros Blackmore (26.23.02) & Simon Hewitt (24.07.08) who all completed the Virtual Montane Lakeland 100 challenge and to Grace Gilpin who completed the 50 mile challenge in 9.54.25.
Swaledale Runners continue to impress in the Greener Miles Virtual Running challenges throughout June. The weekly events have a variety of races each week. These include "The Boomerang" - 10 x 4 miles Race - 30th May. "Points mean Prizes" - 6th June. The last three events have seen the Swaledale Runners come 9th each time out of roughly 40 teams. "National Three Peaks Hill Climbing Team Challenge" - climb the 3 highest peaks in the UK in the shortest time - 13th June. "The Even Bigger One - 24 Hour Challenge" - 24 members had to complete as many miles as they could in 24 hours they clocked up an impressive 548.61 miles. - 19th June. "The Pentathlon" - Five events - 27th June.
Martha McBarron and Andrew Fletcher showed a great trn of speed to come 4th and 5th in the NE Project 5k Dream Team Event.
On Tuesday July 21st Swaledale Runners met as a group for the first time since lock down for a social distancing run amd litter pick around Richmond.
Recent Results:
20/10 - Yorkshire Marathon - well done to Carrie Morrell - 5.15.35 & Catriona Riley - 5.56.16. Also on this date Jess Young had a great run at the Yorkshire 10 mile - 18th Female, 3rd
in age - 1.10.47.
26/10 - Liz Sowter continued her post retirement resurgence and competed in the Grim Up North 20 mile event - Leeds to Shipley and back again along canal paths. She was 1st lady & 4th overall in a time of 3.16.51
26/10 - Ros Blackmore and her partner Mandy Goth were once gain victorious at the OMM Long score event. 1/4 Vet Ladies, 5/17 Ladies, 10/47 Vets & 64/168 overall.
27/10 - Stuart Clarkson competed in the Nav4 Ullswater 24 mile Challenge. Just happy to get round in 7.30 (ish).

02/11 - Jim Coldwell competed in one of his favourite fell races Dunnerdale, these are his thoughts:
OK, so the Black Combe race means the most to me; the Three Shires lives long in the memory; but…the best fell race? For me it's Dunnerdale all the
way. Less than 2,000 feet and at only about 5 miles it sounds like a simple up and down AS – but in reality it's a mini Lakeland classic. With experience I now know that the closest is probably the Three Shires miniaturised by 50% - same hard climbs, tough descents, road crossing in the middle…or maybe it's just me? I've had fairly fast times here, I've run with the local club (Black Combe Runners) over the route a number of times (including in the middle of the night) and it was my first real fell race. This year has been my most difficult since I had a real issue 11 years ago (another story that's been told) and I've struggled with injury and then motivation. But…I loved the Dunnerdale today. Quicker than I thought I'd be (but not that quick), and as usual I bumped into a few folk I know from home (alongside the best fell runners in the country – see the results if you don't believe me). Dunnerdale wins again for me. I'll share, though, my conversation with my beautiful wife as I came in to the finish (alongside my two boys and greyhound Gem). 'Did you get a pic of me coming in?' – 'Your days are over. Got some nice pictures of the dog though'. Fair enough actually!
03/11 - Tim Greenwood had another excellent Fell race at the Lockerton Limping where he was 3rd, Mike Keavney also had a great run.
Also on 03/11 Emily continued to run well at the Craggside Winter Half Marathon, 9th lady overall, 2nd in her age in a time of 1.49.32
Well done to Martin Randall who was 74th at the Derwentwater 10 mile - 1.11.25, Lucy Tulloch finished in 1.38.06.
It's been a busy few weeks for Swaledale Runners with some brilliant results and lots of varied races.
On 13/10 was the clubs annual Richmond Castle 10k race which they organise. Despite the rain the day was great success with a capacity entry of 500 filled and 432 finishers.
We were honoured to have newly crowned women's record holder of the John O' Groats to Lands End challenge - Sharon Gayter starting the race. A massive thank you to all the marshals & volunteers who helped with the race, it couldn't be done with out you. Special mentions to Claire Hewitt, Helen Lucas- Gardner, John Elliot, Geoff Kensett, Simon Hewitt and Robbie Kelly for all their hard work.
The race was won by Andrew Wiles from New Marske Harriers in an impressive time of 33.55. Swaledale Runners were led home by Rebecca Simpson - 8th female, 2nd F40 - 45.16, Jim Coldwell - 51.20, Peter Devlin - 53.24, Helen Nicholson - 56.45, Mel May - 1.00.53, Carrie Morrell - 1.06.33, Catriona Riley - 1.09.08.
13/10 - Kielder Marathon - Martin Randall - 101st - 3.45.14, Lucy Tulloch - 424th - 4.42.33, Grace Gilpin - 530th - 5.04.18, Niall Cheynne - 638th - 5.34.02
12/10 - Ripon 35 Mile Ultra. A fantastic course with perfect weather conditions and lots and lots of mud. A great day was had with Robbie Kelly winning his age group, Simon Hewitt running his first ultra marathon, along with Tony Taylor they did the course in under 7 hours. Stuart Clarkson was happy with 7.23, followed by Vicki Howe.
12/10 - Langdale Horseshoe - Tim Grimwood had a great run to finish in 2.37.20 - 48th out of 377 finishers.
On 6/10 was the Grewelthorpe Trail Race well done to Emily Abbey who was 3rd lady and 29th out of 143, overall in a time of 68.48. Liz Sowter was 91st in 84.58.
Also on 6/10 was the Dave Parry Winter Series - Saltergate Gallows fell race, Tony Taylor was first home for the club 23rd / 81 - 113.55, followed by Mike Keavney - 34th - 123.33, Caroline Graham - 51st - 138.15
On 30/09 - Martha McBarron - competed in the Durham Coast & County Half Marathon - which with a route change ending up being 15 miles but she had a great run in horrible conditions.
Also on 30/09 - Emily was once again 3rd Lady at the Winterhill 10k Mast Blast - 1.07, a very tough, muddy race which she enjoyed.
On 29/09 - Annelie Whitfield ran the Redcar Half Marathon in wet and windy conditions in a great time of 1.50.30 - 3rd in age group.
Well done to Martin Randall who on 15/09 was 12th in a time of 1.41.11 at the Lambton Trial Half Marathon.

Huge congratulations to Tony Taylor and Caroline Graham who completed the Hardmoors 60 in times of 12.59.23 & 15.00.53 respectively.
Three Swaledale ladies were in the The Vale of York half marathon on 15/09, Liz Sowter - 1.56.04, Annelie Whitfield - 1.58.50 & Julia Spittle - 2.05.55 - 2nd in her age group.
24/08 - West Witton Fell Race - Brilliant 2nd place for Tony Taylor 40.09, Martin Randall - 42.28
26/08 - Reeth Show Fell Race - Great result for Tim Grimwood - 4th - 18.20, Tony Taylor - 20th - 21.34, Jim Coldwell - 53rd - 27.04
27/08 - Roseberry Topping Fell Race- Tim & Tony once again. Tim was an impressive 3rd in 13.16 with Tony 27th - 16.14
Ian Oldham completed the UTMB/TDS (Chamoix, France) the tough 146.9km, 9113m of elevation mountain ultra in 37.03.32. Huge congratulations.
01/09 - Tholthorpe 10k - A Fletcher - 43.34 - 69th - 4th MV60
01/09 - Northumberland Half - Martin Randall was an impressive 3rd overall - 1.43.09. In the Full Marathon - Robbie Kelly was 11th in 4.01.58
Great North Run - 08/09 - Well done to Iain Kerr first home for the club in 1.39.52, followed by Simon Hewitt - 10.51.16, Lucy Tulloch - 1.59.14, Sarah Hards - 02.03.15, Jean Bradley - 2.04.05, Roger Brisley - 02.09.39, Peter Parrott - 02.15.07, Stuart Clarkson - 02.20.52, Sheila Cantrell - 02.22.27, Carrie Morrell - 02.27.40, Sharon Knight - 03.01.20
It has taken me a long time to write this account because I just had too much to say! This is a very annotated version of my Hadrian Hvndred. (not a spelling mistake!)
Saturday 26th May St. Elizabeth's School, Hexham, registration of the long distance walkers association flagship event. 478 people started. 293 people finished with 185 people (38%) retiring at some point on the course. The first person finished in 29 hours and 9 minutes. The last in 46 hours and 35 minutes. Walkers start at 10 am, but runners can choose to start at various later times, up to 2pm. This allows for less congestion at the early checkpoints. There are 13 checkpoints in the 100 miles. Some provide fully cooked meals, some snacks and drinks and some just shelter. All have kind welcoming marshals. Self navigation is essential. Everyone must carry a very detailed route description and a map of the area, either paper or electronically. There is a mandatory kit list and kit checks at various points on the route. If you don't have the required kit you are disqualified. No support is allowed from anyone other than the marshals at the checkpoints. A drop bag is taken to the "breakfast" stop, roughly halfway, but other than that you must carry what you need.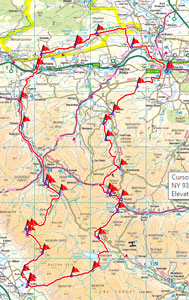 Shortly after the leaving the first checkpoint it started to spit with rain. By the time I had climbed up onto Hadrians Wall it was raining and a very strong westerly wind was blowing straight into my face. The cagoule came out and didn't come off until 29 hours later! After a battering along Hadrians wall the route turned south to Haltwhistle and checkpoint 3. This was really busy, a lot of the walkers having already made it to this point, but due to a big hall and brilliant organization you could get food and drink without queuing and get going quickly. The next section was the flattest part of the route as we followed the South Tynedale Railway – a disused one – all the way to Alston. However, it was mentally quite hard as it had a gentle incline all the way and it just seemed to go on forever. I passed a lot of very miserable people along here, only getting grunts to my cheerful "Hi!" as I went past. It's only a bit of rain, I thought, but they obviously had crystal balls! I ran into Garrigill as it was getting dusk and for the last few minutes it had actually stopped raining. A dry night, I thought! After all, I had seen the forecast and that is always right!!
This section had always been highlighted as a tough one as the next checkpoint (Greg's Hut) had no food or drink facilities, so they gave us snack packs to take with us. From what I could see not much was actually being taken from these but the contents were not what I would have taken to sustain me! It didn't matter, I had my own. Prior to the event I thought there was an awful lot of scare mongering going on about this section. It was only 13 miles from here to Dufton, but reading some of the comments on Facebook you would have thought we were climbing Everest with no oxygen in winter! I did stop reading them in the end! I changed to dry, thicker gloves, put on my headtorch, but didn't put my waterproof trousers on as it had stopped raining and I was still quite hot!
I left the checkpoint to find it was raining again. I should have gone back in to put my trousers on but it was quite busy inside and I didn't want to waste time. I'd put them on at Greg's hut!!! It was now a long climb all the way. It was raining hard and as I climbed the cloud came down and the wind increased. My torch lit the way well but at one point I looked to my right to find a steep drop! Greg's hut was lit by blue lights on the mountain rescue Land-Rover, which had 2 call outs that night! I was now cold. My gloves had made my hands colder than when I was wearing my thinner ones. The shelter was full and the marshal was shouting that no one was going on unless they went in a group. I finally put my waterproof trousers and my thicker waterproof gloves. However, by now my hands were numb and I couldn't get anything out of my pockets to eat. I left with a group of eight people. I haven't been up Cross Fell or High Dunn Fell before and when I saw pictures of them in the daylight I couldn't believe how they appeared. That night in now thick fog, a wind that kept blowing us off our feet and driving rain it was impossible to find the path (if there was one) and we spent most of the time either clambering over rocks or knee deep in bogs. The self-clip at the top was well lit and then it was downhill through more bogs until we found a stone pavement, which led us towards Great Dunn Fell. And it was at this point, at about 2am, when I needed to really concentrate to keep my footing, that my body decided it was time to sleep. It was probably a combination of cold, lack of sugar and tiredness but it did make it very hard. I hallucinated about tall grasses enveloping me all the way down to the safety check where I grabbed a handful of sweets and I seemed to bring me round.