It has taken me a long time to write this account because I just had too much to say! This is a very annotated version of my Hadrian Hvndred. (not a spelling mistake!)
Saturday 26th May St. Elizabeth's School, Hexham, registration of the long distance walkers association flagship event. 478 people started. 293 people finished with 185 people (38%) retiring at some point on the course. The first person finished in 29 hours and 9 minutes. The last in 46 hours and 35 minutes. Walkers start at 10 am, but runners can choose to start at various later times, up to 2pm. This allows for less congestion at the early checkpoints. There are 13 checkpoints in the 100 miles. Some provide fully cooked meals, some snacks and drinks and some just shelter. All have kind welcoming marshals. Self navigation is essential. Everyone must carry a very detailed route description and a map of the area, either paper or electronically. There is a mandatory kit list and kit checks at various points on the route. If you don't have the required kit you are disqualified. No support is allowed from anyone other than the marshals at the checkpoints. A drop bag is taken to the "breakfast" stop, roughly halfway, but other than that you must carry what you need.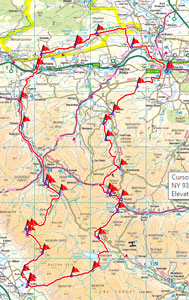 Shortly after the leaving the first checkpoint it started to spit with rain. By the time I had climbed up onto Hadrians Wall it was raining and a very strong westerly wind was blowing straight into my face. The cagoule came out and didn't come off until 29 hours later! After a battering along Hadrians wall the route turned south to Haltwhistle and checkpoint 3. This was really busy, a lot of the walkers having already made it to this point, but due to a big hall and brilliant organization you could get food and drink without queuing and get going quickly. The next section was the flattest part of the route as we followed the South Tynedale Railway – a disused one – all the way to Alston. However, it was mentally quite hard as it had a gentle incline all the way and it just seemed to go on forever. I passed a lot of very miserable people along here, only getting grunts to my cheerful "Hi!" as I went past. It's only a bit of rain, I thought, but they obviously had crystal balls! I ran into Garrigill as it was getting dusk and for the last few minutes it had actually stopped raining. A dry night, I thought! After all, I had seen the forecast and that is always right!!
This section had always been highlighted as a tough one as the next checkpoint (Greg's Hut) had no food or drink facilities, so they gave us snack packs to take with us. From what I could see not much was actually being taken from these but the contents were not what I would have taken to sustain me! It didn't matter, I had my own. Prior to the event I thought there was an awful lot of scare mongering going on about this section. It was only 13 miles from here to Dufton, but reading some of the comments on Facebook you would have thought we were climbing Everest with no oxygen in winter! I did stop reading them in the end! I changed to dry, thicker gloves, put on my headtorch, but didn't put my waterproof trousers on as it had stopped raining and I was still quite hot!
I left the checkpoint to find it was raining again. I should have gone back in to put my trousers on but it was quite busy inside and I didn't want to waste time. I'd put them on at Greg's hut!!! It was now a long climb all the way. It was raining hard and as I climbed the cloud came down and the wind increased. My torch lit the way well but at one point I looked to my right to find a steep drop! Greg's hut was lit by blue lights on the mountain rescue Land-Rover, which had 2 call outs that night! I was now cold. My gloves had made my hands colder than when I was wearing my thinner ones. The shelter was full and the marshal was shouting that no one was going on unless they went in a group. I finally put my waterproof trousers and my thicker waterproof gloves. However, by now my hands were numb and I couldn't get anything out of my pockets to eat. I left with a group of eight people. I haven't been up Cross Fell or High Dunn Fell before and when I saw pictures of them in the daylight I couldn't believe how they appeared. That night in now thick fog, a wind that kept blowing us off our feet and driving rain it was impossible to find the path (if there was one) and we spent most of the time either clambering over rocks or knee deep in bogs. The self-clip at the top was well lit and then it was downhill through more bogs until we found a stone pavement, which led us towards Great Dunn Fell. And it was at this point, at about 2am, when I needed to really concentrate to keep my footing, that my body decided it was time to sleep. It was probably a combination of cold, lack of sugar and tiredness but it did make it very hard. I hallucinated about tall grasses enveloping me all the way down to the safety check where I grabbed a handful of sweets and I seemed to bring me round.
Dufton, at roughly half way was the "breakfast stop", for me about 3am. A lot of people were changing shoes and some were even having showers! There was no way I was taking my shoes off. My feet were wet but comfortable. A few minutes after leaving the checkpoint they would be wet again, why bother! I got another pair of gloves and more malt loaf and flat coke and left to get something to eat before leaving, walking out into a very wet and grey dawn, to climb High Cup Nick and over back to the east of the Pennines.
Now we did have the wind on our backs, but due to the low cloud there was no view at all, High Cup Nick another sight I haven't seen yet! After a long downhill run we went by the dramatic Cow Green reservoir before more climbs to get to Cowshill, Allenheads and then Allenhead Town.
Each checkpoint was run by a different LDWA group and I think many were in an unofficial competition with each other to provide the biggest and best spread. Cowshill was run by the South Wales group and they were all dressed up as Rugby players, with a big screen TV playing a significant rugby match. These later checkpoints were much better than the early ones as they were much quieter so you could get food and water much quicker.
I had about 10 miles to go, when suddenly the sun came out. I couldn't be bothered to take my waterproofs off, although I did deem to take down my hood.
The last checkpoint was at a farm 5 miles from the finish. I had been doing well with my nutrition apart from Cross Fell, making myself eat at all checkpoints and then in between as well and it really seemed to be working. I picked up food at this checkpoint, as usual, and then suddenly, 5 minutes further on I felt I had nothing left. I climbed a hill into the last wood and watched 2 people come by me who I had been running at a similar pace the whole way. I dejectedly walked through the wood feeling awful, although surprisingly I did seem to keep them in sight. I crested the hill near the racecourse to see my husband waiting to see me through. He took one look at me and yelled at me to have an energy gel. I hadn't even thought of that! Out onto the road, past the racecourse and down a long steep hill into Hexham. I was up and running again! At the entrance to the school I had nearly caught the people that had passed me!
I came into the school at around 6.30 pm, 30 hour 36 minutes from when I had started.
101 miles, 13500 ft of climbing, 27 hours of rain! 30 hours of fun! Challenging, but very enjoyable! Roll on 2020 and the Y 100 Sir Fynwy in Monmouthshire!